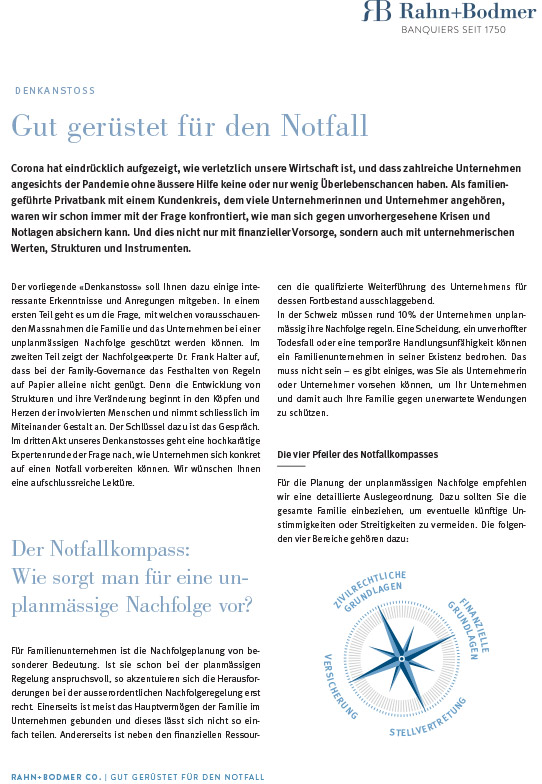 2020
Gut gerüstet für den Notfall
Author: Dr Pablo Hafner
Publisher: Rahn+Bodmer (Switzerland)
Corona hat eindrücklich aufgezeigt, wie verletzlich unsere Wirtschaft ist, und dass zahlreiche Unternehmen angesichts der Pandemie ohne äussere Hilfe keine oder nur wenig Überlebenschancen haben. Als familien geführte Privatbank mit einem Kundenkreis, dem viele Unternehmerinnen und Unternehmer angehören, waren wir schon immer mit der Frage konfrontiert, wie man sich gegen unvorhergesehene Krisen und Notlagen absichern kann. Und dies nicht nur mit finanzieller Vorsorge, sondern auch mit unternehmerischen Werten, Strukturen und Instrumenten.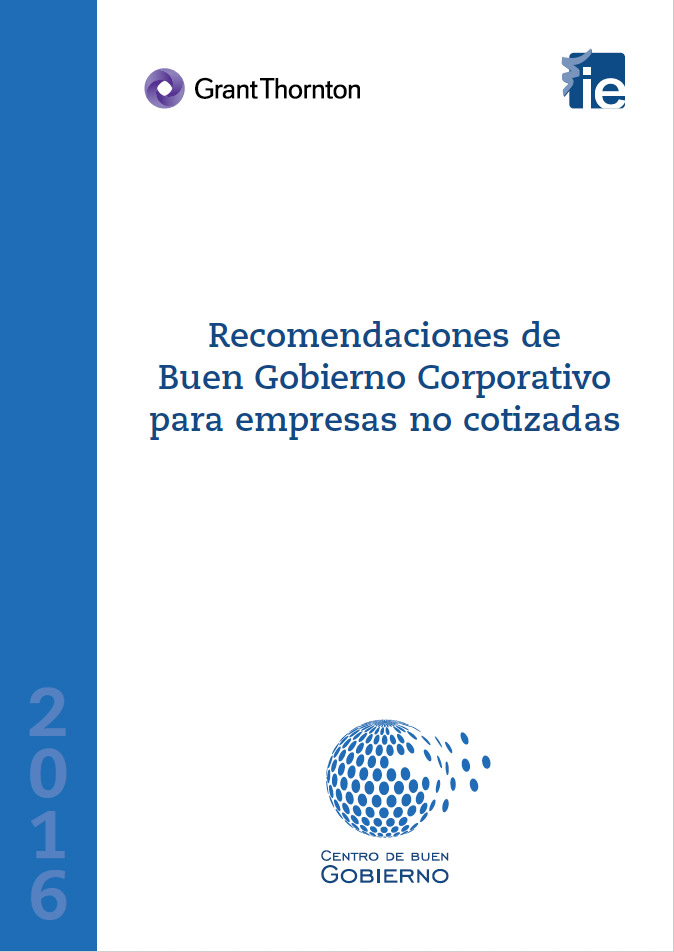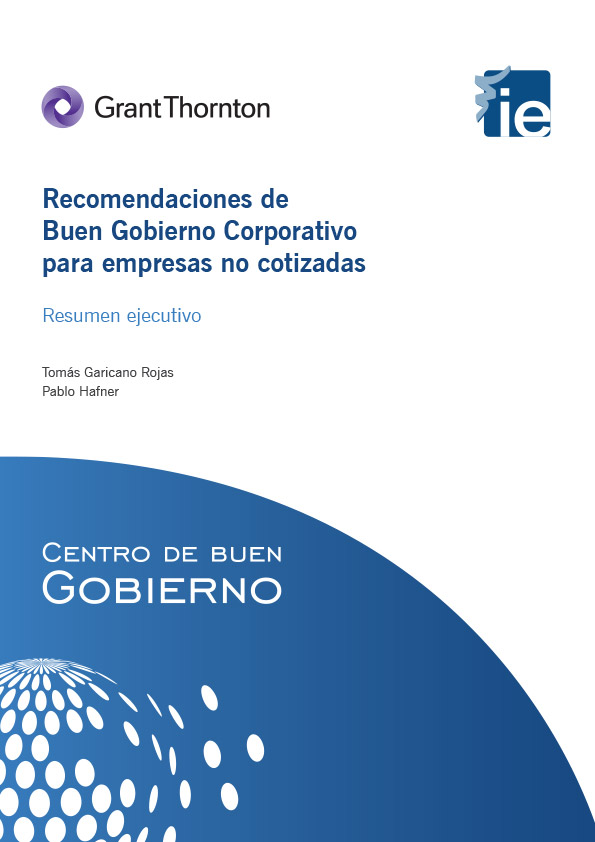 2016
Recomendaciones de Buen Gobierno Corporativo para empresas no cotizadas
Authors: Dr Pablo Hafner, Tomás Garicano
Publisher: Corporate Governance Center at IE University, Grant Thornton (Spain)
En la actualidad existe un claro consenso sobre las ventajas de un buen gobierno corporativo. Sin embargo, la normativa legal y los códigos existentes en este sentido se centran fundamentalmente en las compañías cotizadas. Existe un importante número de empresas que, pese a no cotizar en bolsa, resultan de particular importancia por su tamaño y podrían beneficiarse de muchas de las recomendaciones existentes para las compañías cotizadas.
Este trabajo recoge aquellas medidas que se deducen tanto de la normativa legal de obligado cumplimiento (la Ley de Sociedades de Capital, fundamentalmente) como de los códigos de aplicación voluntaria (CBGSC de la CNMV, 2015) y de otras iniciativas españolas y europeas, que según los autores pueden ayudar a las empresas de interés público no cotizadas a disponer de un sistema de gobierno corporativo más eficiente, que permita la defensa del interés social, entendiendo éste como la creación de valor sostenible a largo plazo.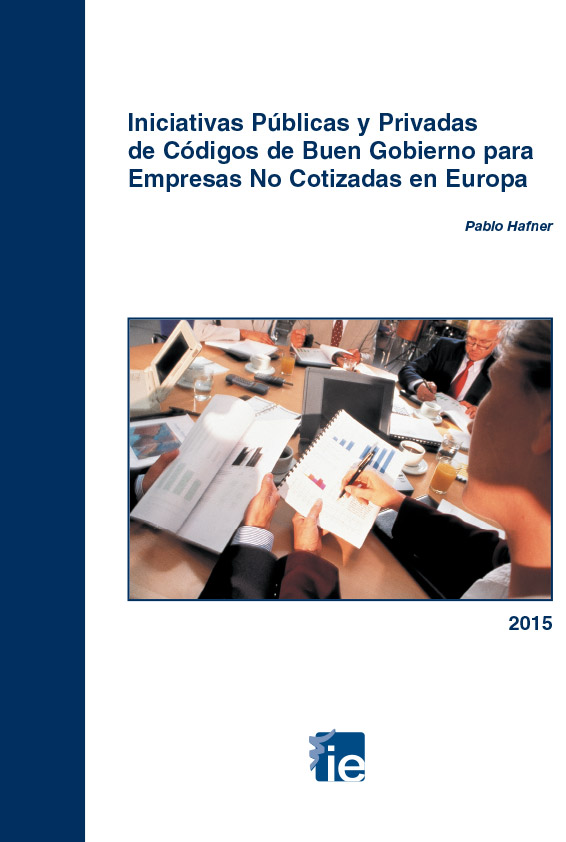 2015
Iniciativas Públicas y Privadas de Códigos de Buen Gobierno para empresas no cotizadas en
Europa
Author: Dr Pablo Hafner
Publisher: Corporate Governance Center at IE University, PwC (Spain)
El gobierno corporativo tradicional, también conocido como soft law, normativa que regula el marco de actuación en términos del gobierno de las empresas, se suele centrar, básicamente, en las sociedades cotizadas y, por lo tanto, se aplica a un porcentaje relativamente pequeño del tejido empresarial. Teniendo en cuenta que las sociedades no cotizadas representan más del 90% de la actividad, resulta necesario definir un marco de actuación de gobierno corporativo saludable para este tipo de empresas.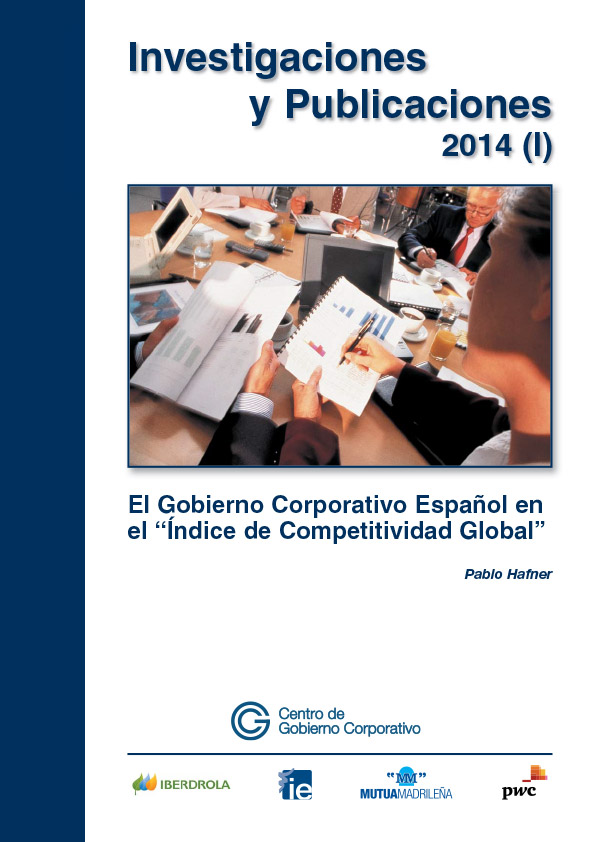 2014
El Gobierno Corporativo Español en el "Índice de Competitividad Global"
Author: Dr Pablo Hafner
Publisher: Corporate Governance Center at IE University, PwC (Spain)
El Foro Económico Mundial (World Economic Forum – WEF) desarrolla y publica anualmente el "Índice de Competitividad Global". Analizando los resultados de los años 2013-2014, llama la atención el mal posicionamiento de España en el conjunto del índice. Al no existir un motivo aparente para esta clasificación tan pobre en términos de Gobierno Corporativo, el presente estudio nos lleva a cuestionar la fiabilidad de los resultados que aparecen el índice referido y, por consiguiente, su aplicación práctica.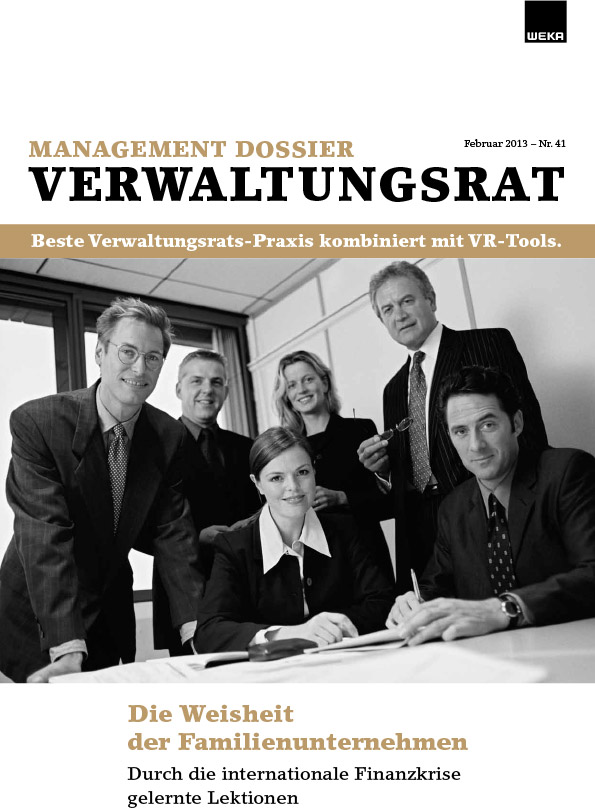 2013
Die Weisheit der Familienunternehmen
Author: Dr Pablo Hafner
Publisher: WEKA (Switzerland)
Während viele multinationale Konzerne im Verlauf der 2008 begonne- nen internationalen Finanzkrise hart bestraft wurden, kamen Familien- unternehmen viel glimpflicher davon. Einige fragten sich, wie Familien- kapitalgesellschaften es schaffen, sich über lange Zeit hin zu behaupten und immer wieder neue Widrigkeiten zu überstehen. Zweifelsfrei kön- nen wir heute bestätigen, dass Familienunternehmen viel besser posi- tioniert sind als Nicht-Familienunternehmen, um sowohl gegenwärtigen als auch zukünftigen Turbulenzen zu begegnen.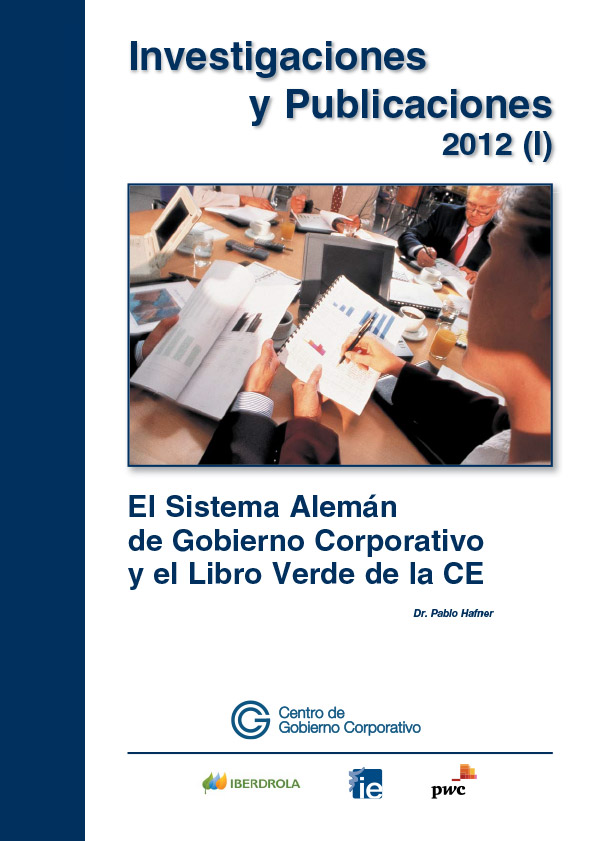 2013
El Sistema Alemán de Gobierno Corporativo y el Libro Verde de la CE
Author: Dr Pablo Hafner
Publisher: Corporate Governance Center at IE University (Spain)
En el ámbito del gobierno corporativo existen dos sistemas principales: el sistema unitario "one-tier system" y el dual "two tier-system". En este trabajo se van a resaltar los aspectos más importantes del sistema dual, sus ventajas y desventajas. Por último, se sugerirán una serie de recomendaciones a considerar, con el fin de mejorar dicho sistema de gobierno corporativo y adecuarlo a las especificaciones del mencionado Libro Verde de la CE.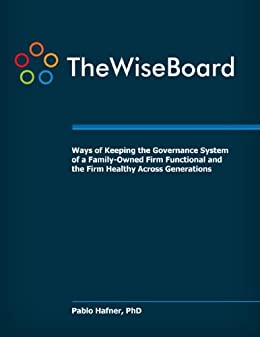 2012
TheWiseBoard
Author: Pablo Hafner
Publisher: Hafner and Partners GmbH (Switzerland)
The Wise Board explains how to assess the efficiency of the board of directors of family firms. Special attention is given to dynamic analysis factors that lead to and guide appropriate interactions amongst the board members. Board structure and compliance to the international guidelines are also considered. This study is designed to lead ultimately to improvements in the dynamics of the corporate governance system of family firms.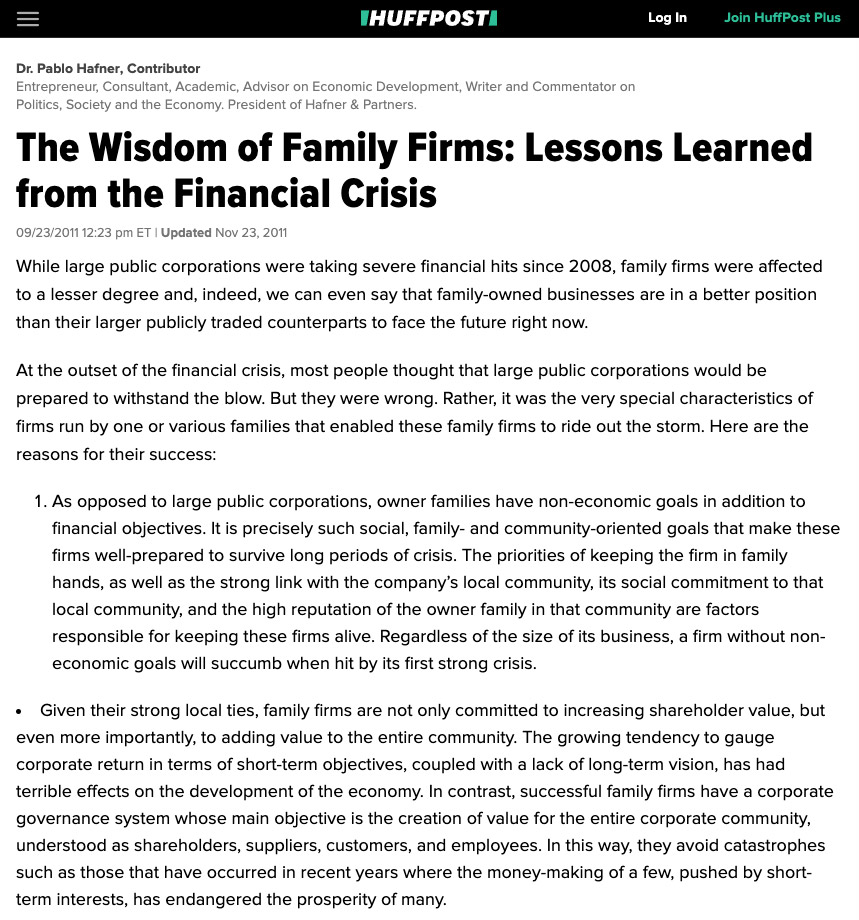 2012
The Wisdom of Family Firms: Lessons learned from the financial crisis
Author: Dr Pablo Hafner
Publisher: Huffington Post (USA)
While large public corporations were taking severe financial hits since 2008, family firms were affected to a lesser degree and, indeed, we can even say that family-owned businesses are in a better position than their larger publicly traded counterparts to face the future right now. At the outset of the financial crisis, most people thought that large public corporations would be prepared to withstand the blow, but they were wrong.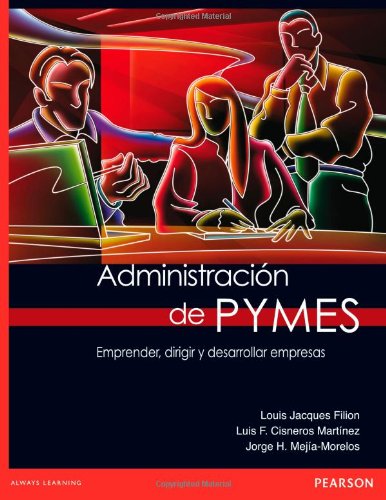 2011
Administración de Pymes
Author: Dr Pablo Hafner
Chapter 28: Gobierno de la empresa en la PYME familiar
Publisher: Pearson (Canada)
El desarrollo económico contemporáneo depende, en gran medida, del avance de las pequeñas y medianas empresas (PYMES), ya que éstas constituyen más del 95 por ciento de las entidades económicas, lo que explica su gran contribución al producto interno bruto (PIB) de la mayoría de los países del mundo. Las empresas que se clasifican dentro de la categoría de PYMES generan elevados índices de empleo e incrementan cada día sus índices de exportación.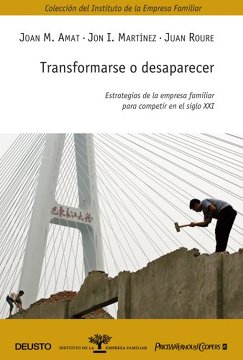 2008
Transform or Disappear: Family-Business Strategies for Competing in the 21st Century
Author: Dr Pablo Hafner
Chapter 12: Opportunity for promoting entrepreneurship by means of governing boards
Publisher: Deusto (Spain)
Over the past decade, the globalization process has become increasingly important. The talk is now of a global market with unlimited competitors, in which it is necessary to adapt in order to be competitive and to survive.
For family businesses, this involves meeting a number of requirements that traditionally have not been considered relevant. In order to adapt to the new international economic environment and preserve their essence, family businesses must adopt specific strategies.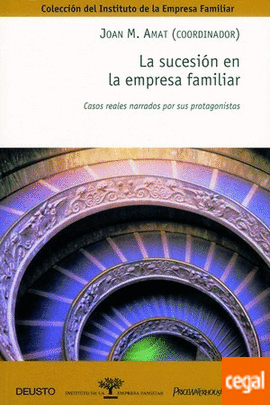 2007
La Sucesión en la empresa familiar
Author: Dr Pablo Hafner
Publisher: Deusto (Spain)
Chapter 8: El consejo de administración como instrumento de renovación estratégica en la empresa familiar.
Dentro de los temas que se incluyen en este libro podemos destacar: El líder frente a la sucesión en la empresa familiar; El protocolo familiar; El consejo de administración y el consejo de familia; Estrategias fiscales en la sucesión; La renovación estratégica de la empresa; o claves del éxito para superar las tres primeras generaciones de la empresa familiar. Ejemplos reales de grupos familiares: "Lladró, S. A.", "El Caballo", "Grupo Familiar Wechsler", "Laboratorios Uriach", "Wendel" y "González Byass".